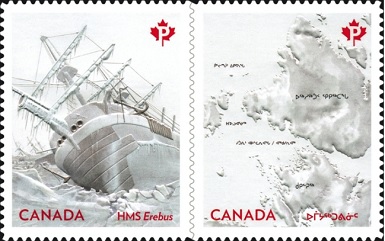 Canada has released two stamps on 6th August 2015 to commemorate John Franklin's search for Northwest Passage and the discovery in September 2014 of the sunken remains of his expedition's flagship HMS Erebus. "The mystery of Franklin's expedition has long captured the imaginations of Canadians", said Canada's Minister of Justice Peter MacKay. "These stamps reflect Canadians' pride in the technology ‒ and traditional Inuit stories and knowledge ‒ that made the discovery of Erebus possible".
The first stamp shows Erebus with the masts of her companion ship HMS Terror in the background at left. The second stamp features a map of the Arctic region that Franklin explored and uses inscriptions in the native Inuktut language to mark key places in the region. This reflects the Inuit oral history that guided many searches for the ships, including last year's successful discovery.
Extensive use of Inuktut text on a stamp from famously bilingual Canada is unusual, but not unprecedented.