World Toilet Day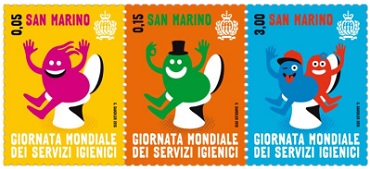 In 2013 the UN General Assembly declared November the 19th as "World Toilet Day".2.5 billion people don't have access to proper sanitation, including toilets and latrines, with dramatic consequences on human heath, dignity and security. With the tagline "We Cant Wait", the Day is an opportunity to inspire action and underscore the urgency needed to end open defecation, especially for the women and girls who are particularly vulnerable. The stamps have been designed by French artist Geneviève Gauckler with colorful and vivid figures using toilet.
Date of Issue: 16 June 2015
World Kiss Day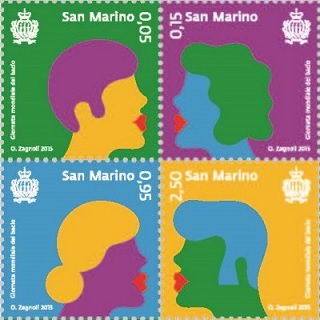 The World Kiss Day has been celebrated in the United Kingdom on the 6th July since 1990 and it spread soon worldwide. Date of Issue: 16 June 2015Its aim is to pay homage to a gesture that contains in its intrinsic value the sense of love in its wider and universally recognized forms.Kissing can be an enjoyable experience in and of itself. It is an expression and experience of intimacy.The set designed by Olimpia Zagnoli shows kissing lips with the shape of a red heart full of passion and happiness.
Date of Issue: 16 June 2015