Definitives 2015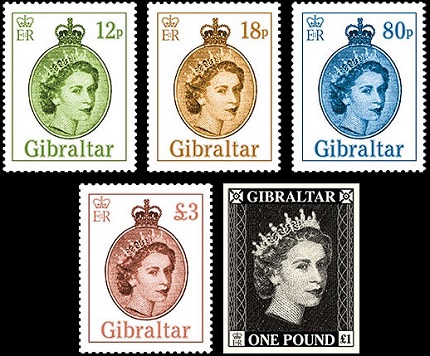 The 2015 Definitive additional value stamps are a continuation of the 2014 De­finitives. They have been printed using a special easy peel self adhesive paper that ensures ease of peeling and aafixing of the stamps onto envelopes. An additional one pound stamp has been produced in tribute and to replicate the original 'Penny Black'
Issue Date: 24.04.2015 Designer: Stephen Perera Printer: Cartor Security Printing Process: Offset Lithography Colours: 4 Colours Size: 20 x 25mm Values: 12p, 18p, 80p, £1, £3
175th Anniversary of The Penny Black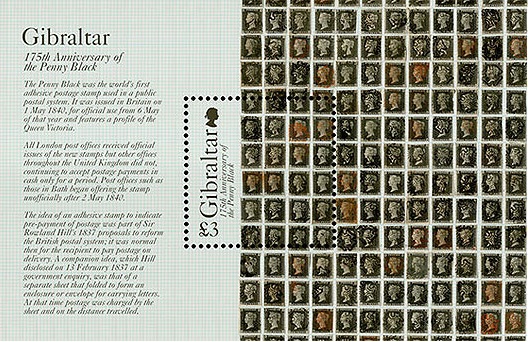 The Penny Black was the world's first adhesive postage stamp used in a public postal system. It was issued in Britain on 1 May 1840, for official use from 6 May of that year and features a profile of the Queen Victoria.All London post offices received official issues of the new stamps but other offices throughout the United Kingdom did not, continuing to accept postage payments in cash only for a period. Post offices such as those in Bath began offering the stamp unofficially after 2 May 1840.
The idea of an adhesive stamp to indicate pre-payment of postage was part of Sir Rowland Hill's 1837 proposals to reform the British postal system; it was normal then for the recipient to pay postage on delivery. A companion idea, which Hill disclosed on 13 February 1837 at a government enquiry, was that of a separate sheet that folded to form an enclosure or envelope for carrying letters. At that time postage was charged by the sheet and on the distance travelled.
Postal delivery systems using what may have been adhesive stamps existed before the Penny Black. Apparently the idea had at least been suggested earlier in Austria, Sweden, and possibly Greece.
Issue Date: 24.04.2015 Designer: Stephen Perera Printer: BDT Security Printers Process: Offset Lithography Colours: 4 Colours Size: 129 x 83mm Values: £3
Europa 2015
Issue Date-5 May 2015,Design-Stephen Perera,Printer-BDT Security printers,Process-Offset lithography,Colors-4,Size-30x40mm,Values-14p, 22p, 64p, 70p, 80p, £1.20