By Laiqh A. Khan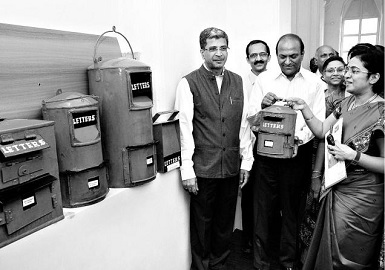 Bengaluru:Bells, shining badges, spears, weighing scales and a host of other paraphernalia associated with the postman of yore were unveiled recently at the Postal Museum, situated in the Postal Training Centre (PTC) here.Set up in an area spread across 1,250 sq ft, the museum was thrown open to the public on Monday to coincide with the PTC's golden jubilee celebrations.
The postman's attire is one of the exhibits at the museum. A water bag with cooling facility, slings across the shoulder, bags, and belt, comprising the postman's attire, along with a pouch for cash collection manufactured in the US, are on display.Spears for defence:"Postmen in the earlier days used to travel long distances on foot and had to pass through several uninhabited areas, including forests. While the spears were needed for self defence, the bells were used to serve to ward off wild animals," said director of PTC D. Veena Kumari.
Letter boxes of many types, shapes and sizes are also displayed at the Museum. A variety of badges and weighing scales were among the exhibits. A cash chest, manufactured in London, which was used to keep cash and valuables at the post office also finds a place at the museum.A Morse instrument with a connector, which was used to sending communications in Morse code, is also displayed.
The museum also features a philately section where postage stamps are thematically displayed.
The oldest stamp on display is a one-and-a-half anna stamp printed in 1947, which is also the first stamp issued by the Department of Posts after Independence. Several permanent documents of the Post Offices including old rule books and savings bank journals dating back to the 19th century are also displayed. S.K. Sinha, Member (HRD), Postal Services Board, New Delhi, inaugurated the museum, in the presence of Chief Postmaster General, Karnataka Circle, M.S. Ramanujam.
Other postal museums in the country are situated at New Delhi, Kolkata, Madurai and Darbhanga, sources in the Postal Department said.(Source-The Hindu)