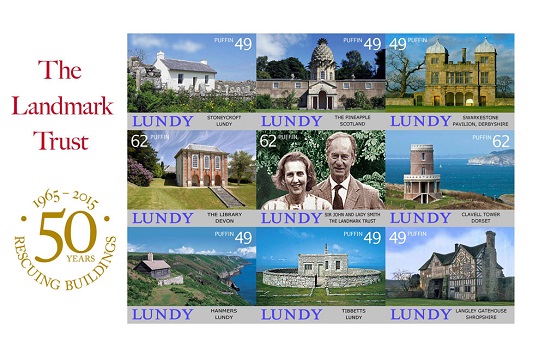 Lundy is a tiny and beautiful island off the North Devon coast, which boasts the oldest private postal service of its kind still operating in the world. The Lundy Post Office produces a new stamp issue, on average, every two years.
Martin Coles Harman, established the Lundy Postal Service ‒ with its own stamps ‒ in 1929, and chose as his currency the puffin, as historically puffin feathers had provided a brisk trade with the mainland. Since then some 350 stamps ‒ printed exclusively for, and unique to, Lundy ‒ have been issued, many of which are now very rare and highly collectible. Lundy's Postal Service is today the oldest of its kind still operating in the world.
2015 marks 50 years since the foundation of The Landmark Trust by Sir John and Christian Smith. The aim of the charity was to prevent the deterioration and loss of smaller and often overlooked historic buildings. Sir John conceived a unique model through which the buildings saved would not become museums but would be living places which people could inhabit as their own for holidays.
Today, the Landmark portfolio numbers almost 200 buildings across the UK and abroad, all adhering faithfully to the Smith's original vision. In 1969, following the death of the island's then owner, Albion Harman, Lundy was offered for sale and the National Trust launched an appeal to purchase it. The philanthropist Sir Jack Hayward stepped in with a gift of the purchase price of £150,000 and Lundy was secured for the nation.
The Landmark Trust agreed to take on the lease of Lundy for 60 years, also agreeing to restore and maintain the island, keeping it as a tranquil and unaffected place for both islanders and visitors to share and enjoy.
The stamps are designed by Lars Liwendahl and Jan-Erik Wellerfors based on photographs from the Landmark Trust archive. For the first time, block perforation has been used ‒ there are no perforations in the border. The special Landmark Trust jubilee emblem is highlighted in the border in bronze/gold.