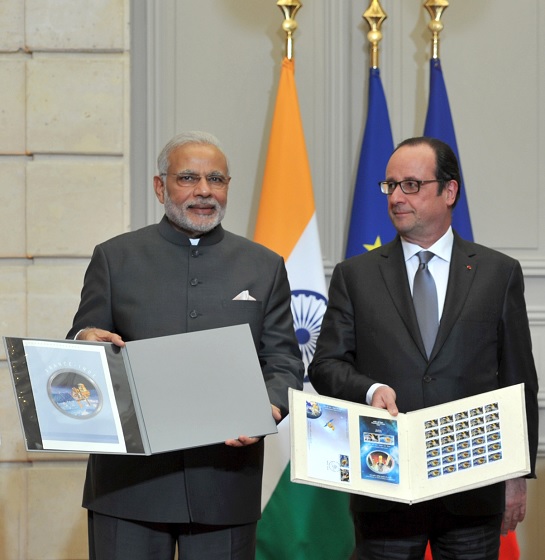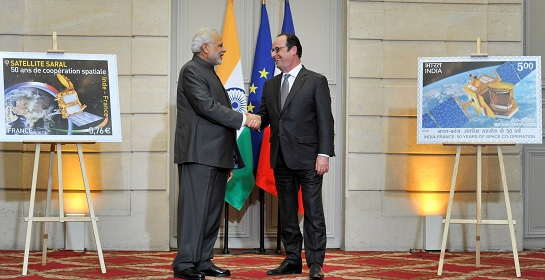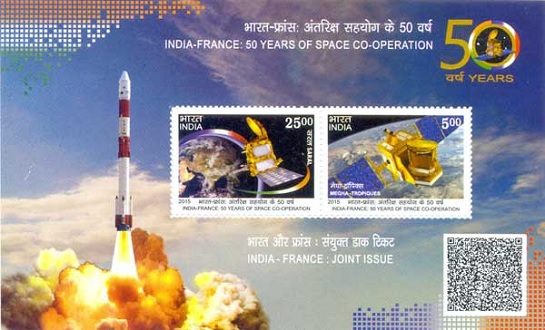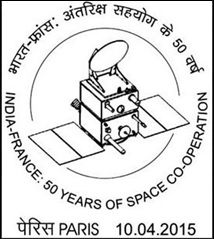 India Post issued a joint stamp and miniature sheet with France on 10th April 2015.The Prime Minister, Shri Narendra Modi and the President of France, Mr. Francois Hollande released the stamps commemorating 50 years of Indo-French Space Cooperation, in Paris.
This is the first time when India is issuing a joint stamp issue on second time with the same country.Earlier India-France Joint stamps were released on 29th November 2003.

France-India Joint Stamp Issue 2015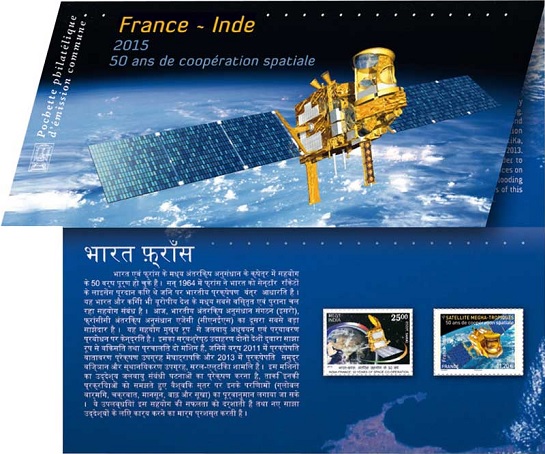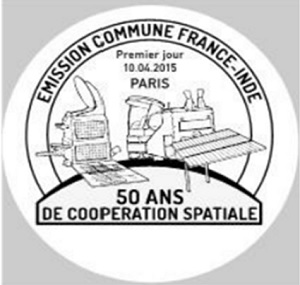 France has released images of France-India Joint stamp issue.The stamps are related to the Saral and Megha-Tropiques space programs. These Franco-Indian satellites are represented on the french stamps. France will release 1,200,000 stamps and has allready announced a mixed "pochette" (mint stamps from both countries).
France and India view each other as important partners in space technology and applications. Indian Space Research Organisation (ISRO) and its French counterpart Centre National de Etudes Spatiales (CNES) have a rich history of cooperation and collaboration spanning about five decades. The two countries are releasing joint commemorative stamps to highlight the excellent cooperation in the area of Space. ISRO and CNES jointly developed the Satellite for ARGOS and ALTIKA (SARAL) carrying a radar altimeter to study sea surface altitude (Ka band Altimeter – ALTIKA) and a data collection platform for collecting data from ocean buoys and weather data centres (ARGOS). CNES provided the payloads and ISRO was responsible for satellite platform and launch using PSLV and operations. The integrated SARAL satellite was launched on 25th February 2013. Under a commercial Launch Service Agreement between Antrix Corporation Limited and ASTRIUM SAS, a company under EADS, France, an advanced Remote Sensing satellite – SPOT-7 built by ASTRIUM SAS was successfully launched on-board ISRO's Polar Satellite Launch Vehicle from India on 30th June 2014.
Arianespace, France has been the major provider of launch services to Indian Geo-Stationary satellites. Subsequent to the launch of APPLE satellite on a co-operative mode with Europe, 18 Geo-Stationary satellites of India have been launched by Arianespace on a commercial basis. India's advanced weather satellite INSAT-3D was launched successfully on 25th July 2013 onboard Ariane-5 launcher from Kourou, French Guiana. India's advanced communication satellite GSAT-7 was launched on 29th August 2013 by Ariane-5 launcher from French Guiana. On 7th December 2014, India's multi-band telecommunications satellite GSAT-16 was precisely placed into the intended Geosynchronous Transfer Orbit by the Ariane-5 launch vehicle.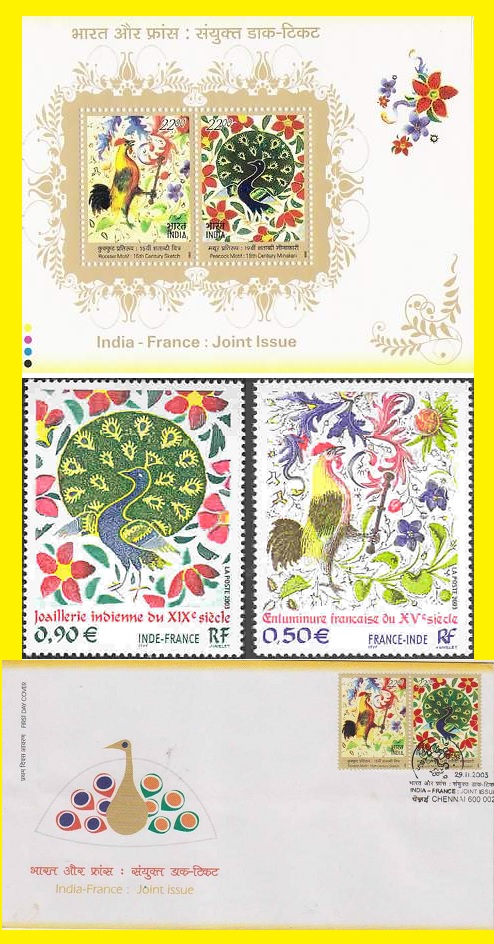 Relations between India and France have traditionally been close and friendly. With the establishment of the strategic partnership in 1998, there has been a significant progress in all areas of bilateral cooperation through regular high-level exchanges at the Head of State/Head of Government levels and growing commercial exchanges including in strategic areas such as defence, nuclear energy and space. France was the first country with which India entered into an agreement on nuclear energy following the waiver given by International Atomic Energy Agency and the Nuclear Suppliers' Group enabling India to resume full civil nuclear cooperation with the international community. There is also a growing and wide-ranging cooperation in areas such as trade and investment, culture, science & technology and education. France has consistently supported India's increasing role in international for a, including India's permanent membership of the UNSC. Indo-French bilateral trade has been growing though it has still not reached the € 12 billion target set by both the Governments during the visit of the French President to India in January 2008. In 2011, bilateral trade had increased by 6% to € 7.46 billion. In the first ten months of 2012, there has been a decrease of 3.71% in the bilateral trade over the same period of 2011.