The term Nabakalebara is an ancient ritual associated with most of the Jagannath Temples when the Idols of Lord Jagannath,Subhadra and Sudarshan are replaced by a new set of Idols.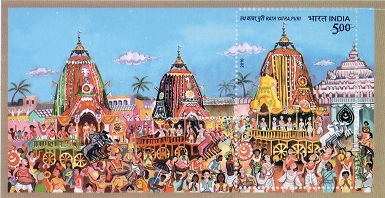 In view of Nabakalebara of Jagannath in Puri in July, the India Post will release a special stamp and first-day cover, featuring images of the reigning deities.The culture department will provide Rs 5 lakh to the postal department for publishing one lakh postage stamps.The department said it would promote Jagannath culture across the country. "We should not leave any stone unturned to popularize the mega event, which will be observed after 1996. The state government will release Rs five lakh from the Odisha State Council of Culture for publication of the special postage stamps," said Odisha culture minister Ashok Panda. The decision to release a special postal stamp was taken following a demand from different quarters. "The Centre has started the process of releasing stamp and postal cover on the occasion," said a culture department officer. Recently, the postal department wrote a letter to the culture department, seeking funds to bring out the dedicated postage stamps.
Last week, the Union tourism department sanctioned Rs 50 crore for promotion of Nabakalebara festival and related infrastructure development activities in Puri. The department would bring out special coins and postage stamps on Lord Jagannath, said union petroleum minister Dharmendra Pradhan following a meeting with Union tourism minister Mahesh Sharma in New Delhi on Friday. The two ministers are scheduled to visit Odisha on March 20 to review Nabakalebara preparations.