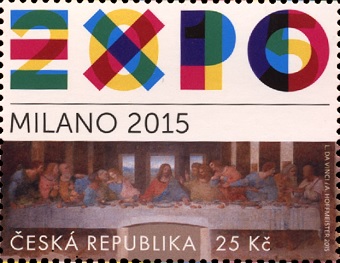 Czech Post has released a stamp for Expo Milano 2015 on 18th March 2015. The stamp contains a combination of the Expo Milano 2015 logo and a photograph of Leonardo da Vinci's fresco The Last Supper; the background of the miniature sheet corresponds with the exhibition logo. The first day cover depicts a drawing of the Duomo di Milano. The handstamp is based on a motif of Leonardo da Vinci's drawing The Vitruvian Man.
The World Exhibition 2015 with its theme "Feeding the Planet, Energy for Life" is focused on the key issues of sustainable development. It intends to become a global opportunity for presentation and comparison of traditional and innovative approaches to food production. The central idea is how to guarantee enough quality and harmless food and water resources for the entire world population.
The World Exhibition will take place on an area larger than one square kilometre on 01 May-31 October 2015 in the presence of about 130 exhibitors from around the world. The Expo 2015 exhibition grounds will be located northwest of Milan, between the towns of Pero and Rho.