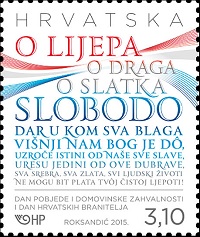 Armed Forces of the Republic of Croatia – from the Lineup of Soldiers on Kranjčevićeva Street to Full Integration in NATO.During 24 years of its existence the Armed Forces of the Republic of Croatia have gone a hard and difficult way. Experienced forces, organised in war circumstances and conditions, have been transformed in freedom period into a modern and well equipped armed force. Armed Forces of the Republic of Croatia were founded on 28. May 1991, when the first brigades of the National Guard made a ceremonial pledge and a solemn march was organised at the stadium of the Football Club Zagreb on Kranjčevićeva Street. Exactly these forces played later a key role in the defence and liberation of Croatia. Actually, that year in summer the aggressor moved forward to attack Croatian territory and despite heroic resistance of Croatian Army the enemy advanced and took parts of the territory. After very intensive fights also Vukovar, the town-hero, lost its last battle on 18 November. Three months of intensive fighting created preconditions for the defence of the remaining part of Croatia and in that period the National Guard conducted successful actions, stopped the enemy and stabilised the situation in the battlefield.
At the end of March 1992 the situation changed in the battlefield and the second phase of the Homeland War was characterised by a series of successful liberation operations. Among the exceptionally important actions was "Maslenica" during which the background area of Zadar was liberated and the traffic communication between the south and the north part of Croatia was established.
The actions continued during 1994 creating preconditions for liberation of the occupied territories and for the military and police operation "Bljesak"(Lightning) in which the army showed excellent capabilities. The crown of liberation actions was the operation "Oluja" (Thunderstorm) in August 1995, which marked the change in strategic positioning of forces in favour of Croatia.
In the years after the victory and peace establishment the Armed Forces of the Republic of Croatia were constituted into a modern and professional army with new tasks in international peace missions and operations. Since 2009, as a full NATO member, the Republic of Croatia has been an important factor in creating a long-term stability in this part of Europe.
Issue Date: 03.08.2015 Designer: Dean Roksandić, designer from Zagreb Printer: AKD d.o.o. Zagreb Process: Multicolour Offset Colours: 4 Colours Size: 29.82 x 35.50 mm Values: 3.10 HRK