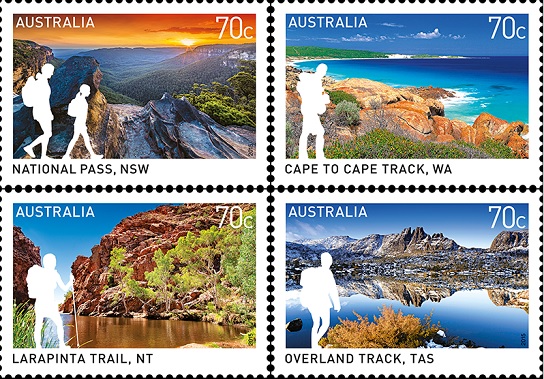 This stamp issue released on 14th July 2015 features four popular walking tracks for hikers that traverse the country.
The six-kilometre-long National Pass in the Greater Blue Mountains World Heritage Area of New South Wales lies 100 kilometres from Sydney and is easily accessible by car or train. The trail was built with picks, shovels, crowbars and dynamite between 1906 and 1907 and was officially opened in 1908.
The Cape to Cape Track runs for 135 kilometres along the Western Australian coast between Cape Naturaliste in the north and Cape Leeuwin in the south. The entire walk is challenging, taking five to seven days; however there are easier sections that take from half a day to a day to walk. The track was officially opened in 2001.
The Larapinta Trail in the Northern Territory follows the West MacDonnell Ranges for 223 kilometres between Alice Springs and Mount Sonder. The walk includes sites sacred to the Arrernte people, who have permitted tourists to visit.
The Overland Track winds for 65 kilometres between Cradle Mountain and Lake St Clair in the Tasmanian Wilderness World Heritage Area.