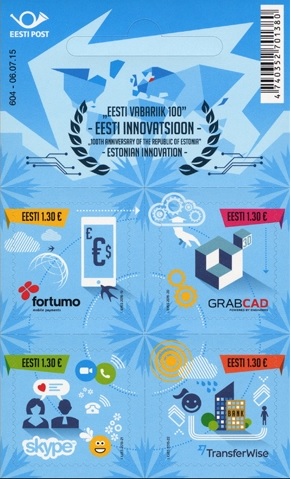 Estonia has issued a set of four stamps on occasion of 100th anniversary of the Republic of Estonia on 6th July 2015. The items depict various innovations the ideas for which were born in Estonia. In the most general sense innovation is doing things in a new way. Several world-wide success stories have been born from Estonian innovational ideas and as a result rapid development has changed the lives of the people for good.
Smart ideas born in Estonia create added value both in the business and the private sectors and some of the success stories have now arrived also on postage stamps. Fortumo is an international mobile payment provider. Grab CAD helps engineers get products to market faster by making it simple to manage and share CAD files.
Transfer Wise is a global peer-to-peer money transfer service that got started from Estonia. Skype is the software that enables the world's conversations, with more than 300 million active users globally.