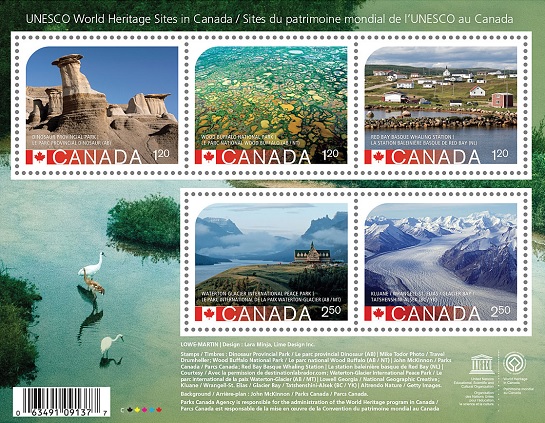 Canada Post issued five stamps celebrating extraordinary Canadian locations whose rugged grandeur and cultural impact have earned global recognition as UNESCO World Heritage sites.Included is Canada's newest UNESCO World Heritage site, the Red Bay Basque Whaling Station, located along the coast of Newfoundland and Labrador's Strait of Belle Isle. There, in the 16th century, European whalers crossed the Atlantic to hunt right and bowhead whales and developed a thriving whale-oil industry.
The Red Bay Basque Whaling station. The terrestrial and underwater archaeological sites provide the earliest, most complete and best-preserved evidence of the European whaling tradition, including the remains of rendering ovens, workshops, temporary dwellings, wharves, whaling ships and whale bones. Red Bay is also a National Historic site of Canada.
Dinosaur Provincial Park. Located along the Red Deer River in the badlands of southeastern Alberta, the park has yielded the world's greatest concentration of late Cretaceous dinosaur fossils. The area boasted a subtropical climate and lush forests 75 million years ago. Its buried remains were exposed about 13,000 years ago when glacial ice scraped off upper layers of accrued rock and sediment, leaving behind a stark landscape of hoodoos, isolated mesas and low-lying coulees.
Waterton-Glacier International Peace Park. Created "where the mountains meet the prairie," it is the home of glacial trough lakes and rivers that run into three oceans. The park was formed from the combination in 1932 of Waterton Lakes National Park in Alberta and Glacier National Park in Montana. It is the first such park in the world to promote peace and friendship between nations. A herd of elk migrates annually from summer mountain habitat in Glacier to winter prairie ranges in Waterton.
Wood Buffalo National Park. Canada's largest national park embodies the space and wilderness that symbolize northern Canada, containing some of the largest undisturbed grass and sedge meadows in North America and the largest free-roaming herd of bison in the world. The park is home to one of the world's largest inland freshwater deltas and a diverse abundance of waterfowl.
About the stamps-The stamps measure 54 mm x 85 mm and were designed by Lara Minja of Lime Design in Victoria, B.C. They were printed by Lowe-Martin. The three U.S. rate stamps and two international rate stamps are separately available in booklets of six. The souvenir sheet of five stamps measures 130 mm by 100 mm. The Souvenir Sheet Official First Day Cover measures 191 mm x 113 mm. The stamps are also reproduced as postcards, available individually and in sets of five. The cancellation site is Red Bay, N.L., chosen because of its designation in 2013 as a World Heritage site.