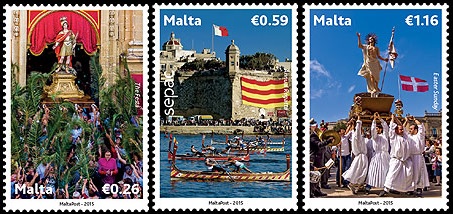 The theme for this year's SEPAC (Small European Postal Administration Cooperation) issue is 'Culture'. The Maltese Islands can boast of a rich and diverse cultural heritage, which is the result of millennia of interaction that the Maltese people had throughout the ages with diverse civilisations and societies. Today our culture may be defined as Latin European with Arab influences. Latin European influences remain predominant mainly because of the Islands' rulers in the past eight centuries as well as the fact that Malta shares Catholic religious beliefs and Southern European traditions. The Islands are home to numerous annual feasts, special occasions as well as activities that are enjoyed by locals and foreigners alike. Religious influences on Maltese culture
The Maltese are devout Catholics, and religion still holds an important place in Maltese society. There are around 365 churches and chapels throughout the Islands – one for every day of the year. Each town has its parish church that annually celebrates its festa. This yearly occasion marks the day of the patron saint of each parish with marching bands, processions, fireworks and other festivities. The statue featured on the 0.26 stamp illustrates the feast of St George in Victoria Gozo which is celebrated in summer during several days of external festivities, cultural fare and popular entertainment. St George is considered to be a foremost Christian martyr revered since the beginning of the 4th century AD. The statue of the Risen Christ which is portrayed on the 1.16 is carried around the streets of many towns and villages on Easter Sunday accompanied by a band playing festive tunes. At the end of this procession, the way is cleared and the statue-bearers take a run to carry the Risen Christ triumphantly back into the church. The photo on the stamp was captured in ¯ebbug Malta.
National feasts in Malta The national days of the 31st March and 8th September are marked by unique activities including boat races called Regattas. The Regatta is held called Regattas. The Regatta is held in the Grand Harbour, which serves as a magnificent backdrop for the colourful Maltese boats, driven by rowing teams mainly from the towns around the inner harbour area. A snapshot of these rowing races is captured on the0.59 stamp.
Issue Date: 17.06.2015 Designer: Photography: Daniel Cilia Process: Offset Colours: 4 Colours Size: 44mm x 31mm Values: €0.26, €0.59, €1.16