By Prarthita Jain
"All our dreams can come true, if we have the courage to pursue them."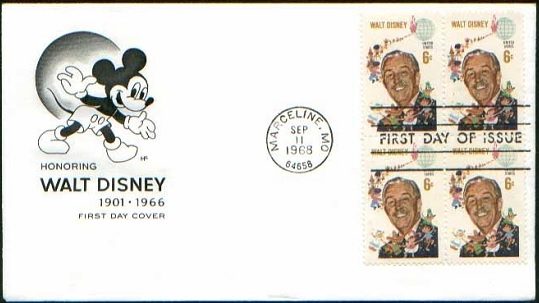 These words were said by the man who made our childhood wonderful,the man who gave wings to our imagination.Who gave girls a dream of beleiving that each one of them is a 'Princess' and has a Prince Charming waiting somewhere out there for her and boys the beleif that each one of them has a hero inside him. He taught us,through his stories that good always triumphs over evil.It is none other than Mr.Walt Disney.
Walter Elias "Walt" Disney (December 5, 1901 – December 15, 1966) was an American entrepreneur, cartoonist, animator, voice actor, and film producer. As a prominent figure within the American animation industry and throughout the world, he is regarded as a cultural icon,known for his influence and contributions to entertainment during the 20th century. As a Hollywood business mogul, he and his brother Roy O. Disney co-founded The Walt Disney Company.
In the next few days,we shall go through the works of this fantastic man in our way- The PHILATELIC Way. So,I introduce to all of you what I will be calling the KID'S CORNER. Here, some of us will relive our childhood memories while the younger readers will come to know about a childhood free of PlayStations, computers and mobile phones but a childhood full of beautiful imagination.