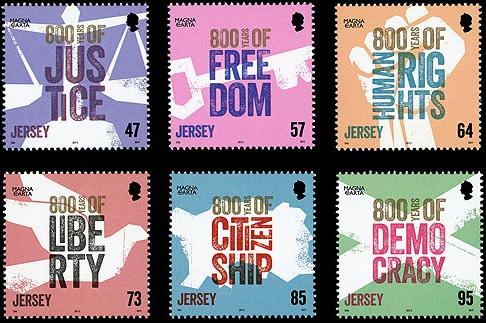 The six stamps and Miniature Sheet in this issue feature contemporary interpretations of the subject. Each of the six stamps represents a different ideology taken from Magna Carta: Justice, Freedom, Human Rights, Liberty, Citizenship and Democracy – ideologies which still resonate today.
Magna Carta, an exceptional document on which democratic society has been constructed, was sealed 800 years ago on the banks of the River Thames at Runnymede. On 15 June 1215, the original Great Charter was agreed by King John when he yielded to the demands of feudal barons and bishops to limit his powers. Up to thirteen copies of Magna Carta were quickly made and distributed throughout the kingdom. Over the next 800 years, the idea of Magna Carta gathered momentum and it became one of the most respected legal documents ever written. It is arguably the most important influence in the development of the free world and is seen as a basis of modern constitutions. It was revised several times in the 13th Century and the 1297 version became part of English law.
Issue Date: 17.06.2015 Designer: TPA Printer: BDT International Process: Offset Lithography
Colours: 4 colours + Gold metallic ink Size: Stamp die size: 36mm x 36mm. Miniature Sheet overall size: 85mm deep x 125mm wide, stamp die size within: 42.58mm x 42.58mm.