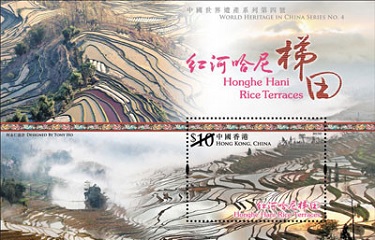 The stamps featuring Honghe's magnificent terraced landscape and its distinctive Hani culture.
Added to the World Heritage List in 2013, the cultural landscape of the Honghe Hani Rice Terraces covers 16,603 hectares of land in Southern Yunnan.It is marked by the spectacular terraces that cascade down the slopes of the towering Ailao Mountains to the banks of the Hong River. Boasting over 3,700 terrace steps, the massive Honghe Hani Rice Terraces have been continuously used and developed over 1,300-odd years of farming and ploughing.
The Hani people have devised a complex system of channels to bring water from the forested mountaintops to the different levels of the terraces.The landscape reflects an agro-ecosystem formed by the four interwoven elements of forests, villages, terraces and rivers, demonstrating extraordinary harmony between mankind and the environment.
The stamp sheetlet depicts the picturesque scenery of the terraces of Laohuzui, Bada and Duoyishu at sunset and in the spring mist enveloping the seemingly endless layers of terraces that meander along the slopes and stretch across every ravine of the vast mountainous terrain.
Date of Issue: 18 June 2015