Greenland Aviation V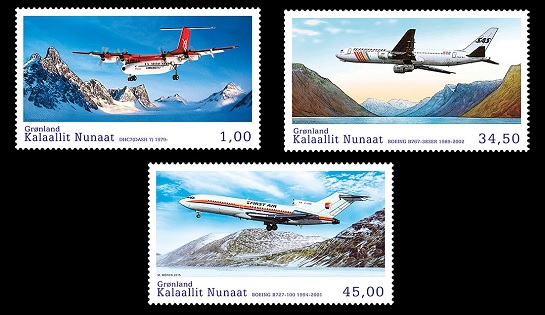 Two of the three stamps in this is- sue deal with aircraft flown by companies whose principal base is outside Greenland. They are, re- spectively, SAS and First Air. The aviation series is scheduled to continue to 2017 when the series will conclude with the publication of a book that brings together all the stamps in this aviation series.
Issue Date: 13.05.2015 Designer: Martin Mörck Process: Combination Colours: 4 Colours Size: 58.00 x 33.00 mm Values: DKK 1.00, 34.50, 45.00
Greenland Definitive Series 2015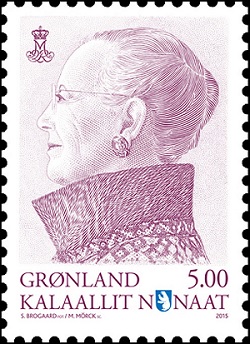 In October 2012 the long-awaited reprint of the definitive series fea- turing Her Majesty the Queen's portrait was issued with the add on values DKK 0.50 and DKK 1.00. On 21st October 2013 the stamp was issued with the denomination DKK 10.00. With G563 and G564 the series now continues with two new denominations, DKK 5.00 and DKK 20.00.
The first Greenlandic definitive series was issued in 1938 when the then monarch, King Christian X, was depicted on stamp. In 1950 his son and successor, King Frederik IX, was portrayed on the next definitive series. Our present definitive series, which started in 2012, is our sixth definitive series portraying HM The Queen, since 1973, when our beloved monarch was first depicted on a Greenland stamp.
To celebrate the HM The Queen's 50th birthday in 1990, the then Greenland Home Rule named an ap- proximately 4,500 sq.km. area by Ittoqqortoormiit (Scoresbysund), East Greenland "Queen Margrethe II's Land". The area lies off the Greenland Sea.
Issue Date: 13.05.2015 Designer: Martin Mörck Illustrator: Steen Brogaard Process: Intaglio/Offset Colours: 4 Colours Size: 28.50 x 40.00mm Values: DKK 20.00