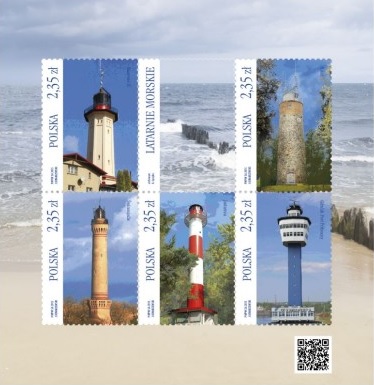 The stamps features the lighthouses of Swinoujscie, Kikut, Jastarnia, Gdansk and Rozewie.
Rozewie Lighthouse is located in the small village of Rozewie; located between Jastrzebia Góra and Wladyslawowo, on the Polish coast of the Baltic Sea.
The lighthouse is located in between the lighthouse in Stilo and Jastarnia Lighthouse. The lighthouse has the largest focal length throughout Polish lighthouses.
Kikut Lighthouse is a lighthouse in the north of Poland on the Baltic Sea coast that is active since 1962. It is the highest light on Poland's coast.
The lighthouse is situated near the village Wiselka on the island of Wolin and can only be reached via foot paths, steep at the end. The lighthouse was created on the base of an ancient view tower, the Kiekturm. It is one of the few Polish lighthouses, which can't be visited. Its light is visible from the neighbouring island of Usedom.
Swinoujscie Lighthouse, also known as Swinemünde Lighthouse, is an active lighthouse in Swinoujscie, Poland. At a height of 212 feet (65 m) it is the fifteenth tallest "traditional lighthouse" in the world, as well as the tallest brick lighthouse, and the tallest in Poland. It is located on the east bank of the river Swina just inside the entrance.
Jastarnia Lighthouse in Jastarnia on the Polish coast of the Baltic Sea. The lighthouse is located in Jastarnia, Pomeranian Voivodeship; in Poland, on the Hel Peninsula.
The lighthouse in Jastarnia is located between the lighthouse in Rozewie and the lighthouse in Hel.
Gdansk Lighthouse is one of the most beautiful lighthouses on the Baltic stands 90 feet tall greeting ships at the entrance of the harbour of Gdansk. On September 1, 1939, at 4:45 a.m. the German army opened fire from the site onto the Polish army across the Vistula River in Westerplatte, marking the start of World War II.
Date of Issue: 19 June 2015