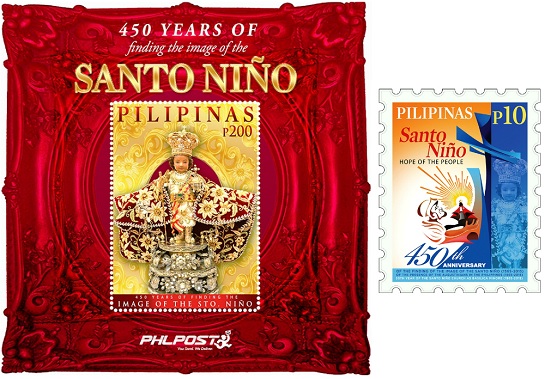 Philippines issued stamps on 19th April 2015 to mark the 450 years of finding the image of the Sto. Niño stamps. "The Philippine Postal Corporation (PHLPost) pays its homage to the image of Señor Sto. Niño of Cebu, the source of hope and faith of the people, who is historically recognized as the oldest religious relic in the Philippines",Postmaster General Josie Dela Cruz said.
The celebration refers to the historic finding of the religious relic, the image of the Santo Niño, on April 28, 1565. Ferdinand Magellan and Fr. Pedro de Valderrama upon their arrival in 1521 in the Philippines gave the Sto. Niño image as a gift to the wife of King Humabon of Cebu. History has it that the image of the Child Jesus was later on found in 1565 in a burned hut.
The 450th Anniversary of Kaplag will also commemorate the 450 years of Augustinian presence in the Philippines. Also, the celebration marks the 50th Anniversary of the Santo Niño Church as having been elevated to the honorific title, "," – a title conferred in 1965 by Pope Paul VI.