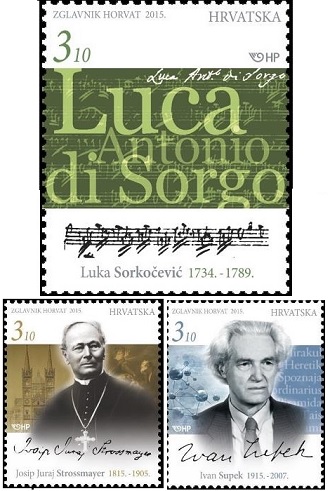 Croatia has issued three stamps dedicated to the famous Croats on 21st April 2015.
The issue honors such outstanding people as Luka Sorkočević, Josip Juraj Strossmayer and Ivan Supek.
Luka Sorkočević: creator of not so huge opus but also of first Croatian symphonies, which by numerous and formal finesses and genuine solutions belong to the circle of European composers of the pre-classical period.
Josip Juraj Strossmayer. Strossmayer was catholic, active in church, culture and political life, collector of heritage, founder of institutions such as Yugoslav (today Croatian) Academy of Sciences. It is his merit that a magnificent palace was built in Zagreb for the Academy as the place for collecting and use of its immense written treasures.
Ivan Supek. During whole his life he significantly contributed to our community and as humanist, peacemaker and philosopher he acted and thought at global level and was unremittingly engaged in disarmament, protection of nature and social justice.