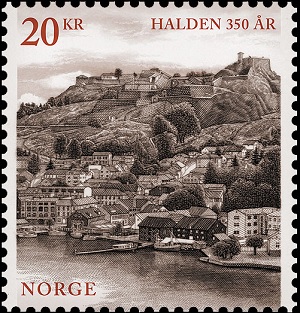 Halden's history is an exciting one. The town was named Frederikshald in 1665 after the Danish king, Frederik III. Just like Kristiania, which in 1925 changed its name back to Oslo, Frederikshald took back its old name, Halden, in 1928. But the fortress, which so many people have visited, is still called Fredriksten, and it towers above the town.The old seaport, Halden, emerged as an export port for timber being sent to Holland and England. When Norway was forced to surrender areas to Sweden under the Treaty of Roskilde in 1658, Halden became an important border town to Sweden. In our historically conflict-filled relationship with Sweden, Fredriksten Fortress and the town at the foot of the fortress's mountain played an important role. Swedish advances were stopped time after time, and when Karl XII fell at the fortress in 1718 it marked the end of the Great Northern War.
The first mechanical industrial company in Norway was opened in Tistedalen in 1815, with Mads Wiel's cotton spinning mill as one of the first industrial pioneers. During the union with Sweden between 1814 and 1905, Halden also played an important role for the areas in Sweden.
Halden became a significant maritime town with an impressive 133 ships in 1875. Maritime became less important as ships one after one transitioned from sail to steam. Between 1892 and 1998 there were 17 shoe factories in Halden, but the growing imports of cheaply produced shoes from the Far East forced the last factory at Øberg in Tistedalen to close its doors.There have been several fires in Halden, and one of them was set by the inhabitants of the town to prevent their homes from being taken by the Swedes. The fire of 1826 caused so much damage that much of the town needed to be rebuilt. This has given Halden the uniform appearance it has today.During the summer, Fredriksten Fortress and Svinesund are the major tourist attractions in Halden Municipality. The popular sing-along programme that started on TV2 in 2007 attracts thousands of tourists and creates a buzzing atmosphere during the summer months.
Issue Date: 10.04.2015 Designer: Arild Yttri Illustrator: Photo: © Lisa Gustavsen, Halden kommune Printer: Joh. Enschedé Security Print Process: Recess / Offset Colours: 4 ColoursValues: 20.00