Shrine of the Book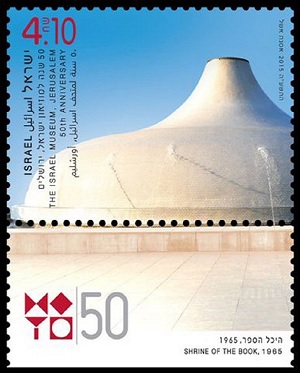 Israel's largest cultural institution and one of the leading museums worldwide, the Israel Museum marks it's 50th anniversary in May 2015.It is a major cultural attraction for Israelis and tourists alike.The Shrine of the Book houses the Dead Sea Scrolls, the most ancient biblical manuscrips in the world. The Shrine,which also was opened in 1965, is known throughout the world for its unique architectural design -a bright white dome juxtaposed with a black wall.
Ashdod Port 50th Anniversary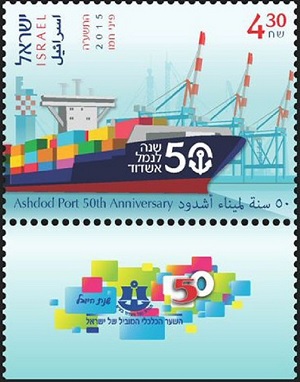 On August 31, 1961, between heaven and earth, along the deserted sandy shoreline, the cornerstone was laid for the port which would connect southern Israel to Ashdod and Israel to the world.
Hanukkah Lamp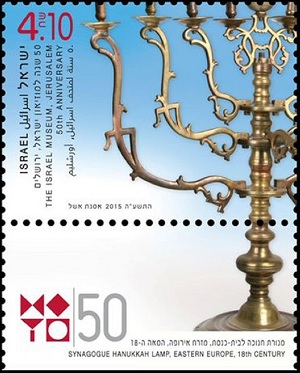 Israel's largest cultural institution and one of the leading museums worldwide, the Israel Museum marks it's 50th anniversary in May 2015.Stamp – A Synagogue Hanukkah Lamp was designed to stand by the Torah ark in the synagogue as a reminder of the Temple Menorah,
Souvenir Leaf: Israel Chemistry Society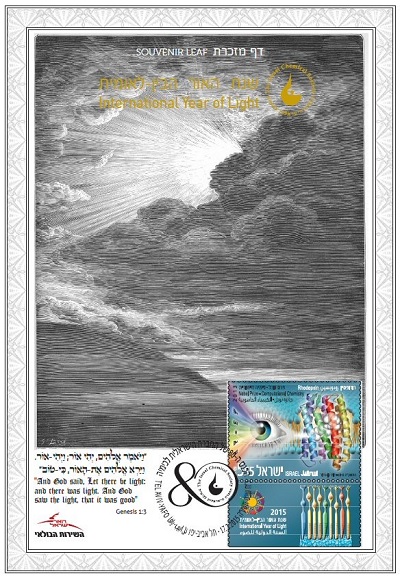 The Israel Chemical Society (ICS) is a registered organization dedicated to the advancement of pure and applied chemistry, both nationally and internationallyel Chemical Society (ICS) is a registered organization dedicated to the advancement of pure and applied chemistry, both nationally and internationally