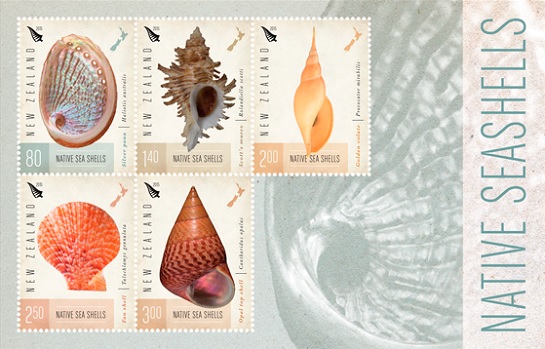 Date of Issue:6 May 2015
80c – Silver paua (Haliotis australis):The silver paua lives in the lowtide and shallow sub-tidal zones on rocky shores throughout the country where it grazes on kelps and other algae. The genus name Haliotis is Latin for sea-ear, reflecting their distinctive shell shape.
$1.40 – Scott's Murex (Rolandiella scotti):As Scott's Murex lives on rocks sub-tidally it can be quite a challenge to find a living specimen. The spines on the shell provide adhesion for camouflage providing organisms like bryozoans and coralline algae giving the shell a pebblelike appearance.
$2.00 – Golden volute (Provocator mirabilis):Golden volutes were once considered by many to be 'New Zealand's rarest shell' as they inhabit depths of 400-1000 metres which is well beyond the reach of most shell collectors. It is rarely found in shell collections and is highly prized for its attractive curves and colouration.
$2.50 – Fan shell (Talochlamys gemmulata):Talochlamys gemmulata is one of two common shallow-water scallops referred to as fan shells in New Zealand. This particular specimen was collected from the Wahine wreck in Wellington harbour and is held in Te Papa Tongarewa's collection.
$3.00 – Opal top shell (Cantharidus opalus):The opal top shell is a common and attractive species living on rocky shores throughout New Zealand at and below low-tide. Remarkably, the opal top shell was the first New Zealand animal to be scientifically recorded and illustrated.