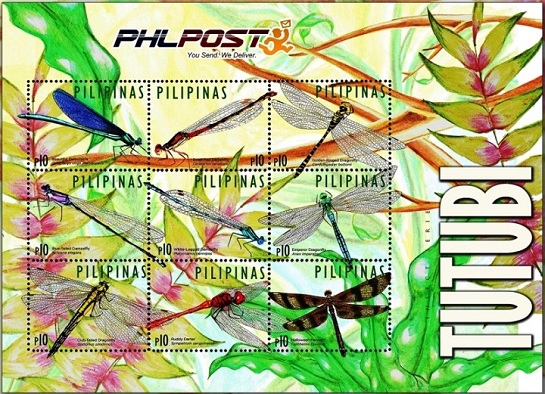 Stamps featuring dragonflies will be among the highlights of the 23rd corporate anniversary of the Philippine Postal Corp. PHLPost said the stamps featuring the insects—known for their strength and agility—launched on 6 April 2015.
"Dragonflies are generally stronger and more robust. It also highlights PHLPost radical transformation from a 'snail mail' to a fast and efficient express mail door to door delivery It said the new stamps will feature nine varieties of these insects including Demoiselle, Small Red Damselfly, Golden-Ringed Dragonfly, Blue-Tailed Damselfly, White-Legged Damselfly, Emperor Dragonfly, Club-Tailed Dragonfly, Ruddy Darter and Halloween Pennnant.
PHLPost said the stamps are classified as "special" with a denomination of P10. Some 198,000 pieces have been printed by Amstar Co. Inc.