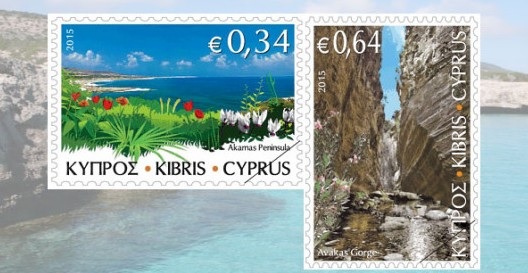 Cyprus has issued two stamps featuring Akamas peninsula and Avakas gorge on 9th July 2015.
Akamas peninsula:The Akamas peninsula, named after an Athenian warrior and son of Theseus, who arrived here after the Trojan war, is a unique area, both geologically and with regard to flora and fauna.At the southern end of the peninsula is the town of Pegeia and on its northeast side the town of Polis. Due to the mountainous nature of the peninsula there are no roads running through its heartland.
Almost all the geological formations of Cyprus can be found here, from narrow deep valleys, caves and islets to gorges such as that of Avakas, resulting in a real geological mosaic. For this reason the Akamas peninsula is endowed with a unique biodiversity, habitats and ecosystems.
Avakas Gorge:A masterpiece of nature, Avakas Gorge is situated in the unspoilt Akamas peninsula in northwest Pafos (Paphos). A trekker's paradise, it offers spectacular views and a generous introduction to local flora and fauna, including the endangered centauria akamantis – an endemic plant found only in the gorge.
Carved out of limestone rocks, rising up as high as 30 metres and narrowing dramatically at one point, the gorge is a fairly difficult hike as the rough track winds its way along and over the stream that formed this natural wonder over thousands of years.