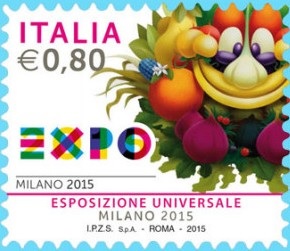 Italy has issued a stamp featuring mascot of Expo Milano 2015, the Universal Exhibition that Milan, Italy, being hosted from May 1 to October 31, 2015.
The stamp depicts the logo of the event and the legend "EXPO MILANO 2015″ along with the eye catching mascot.Milan is hosting the exposition for the second time, the first being the Milan International of 1906.
The theme chosen for Expo Milano 2015 is Feeding the planet, energy for life.