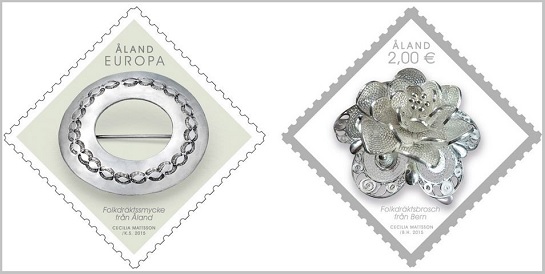 The two stamps issued by both posts present glittering silver jewelry embellishing the traditional folk dresses of the two countries.
The Åland shawl buckle is a so-called woggle in silver designed by Åland silversmith Viking Sundberg on the basis of older finds in Åland. The woggle is used to fastening the shawl and it is used with all Åland female folk dresses. The first Åland folk dresses appeared in 1908 and all 16 Åland municipalities have their own folk dress today.
The Swiss motif is a traditional Bernese Sunday costume brooch. The filigree brooch is made from delicately twisted silver threads and is one of a number of brooches worn with the folk costume. The cantonal dress has remained largely unchanged since the end of the 19th century and is still used for special occasions.