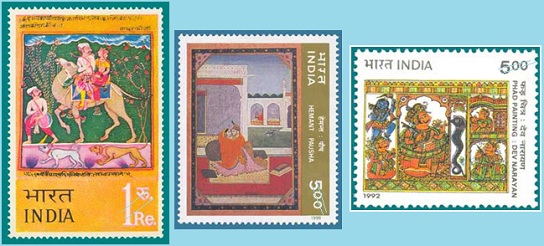 By Ganesh Prasad Chowdhury
Philately is very important ad famous hobby .Philatelic stamps are something different from the normal stamps. Such stamps are released on specific occasions and in limited number. The hobby of stamps collection is popularly known as philatelic hobby. It needs sincere effort and knowledge. The stamps are required to be kept in an album or stock book.
In the olden days elders as well as children were pursuing some hobby and extracurricular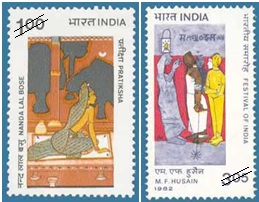 but now a days these curriculums are not encouraged and they keep engaged in mobile or net games. One of the most important and popular hobby for the last one hundred fifty years or so is stamp collecting and arranging them theme or topic or subject wise and study them the material depicted in it. The stamps covers all the subject matters of the World and beyond .In pursuing the hobby, the collector must select theme or topic or subject of his interest and knowledge.
There are many hurdles in pursuing the hobby. Unawareness among masses, absence of passion details, information of release are obstacles, dearth of workshops on philately , absence of organizations such as clubs or societies are some of the difficulties in pursuing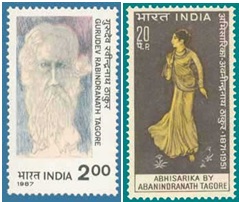 the collection of stamps and their preservation and study. These clubs or societies wherever available help in exchange program me and creates awareness among the people toward collection and stocking them properly topic wis
One the most attracting and beautiful topical stamp that fascinates people is the stamps depicted with art and painting. Art and culture themed stamps collection needs to be promoted so that collection in India heaps in preserving and sustaining its diversity natural and cultural environment .Philately in Our Country should have been developed in such a way that it accommodates and entertains a collector in fascinating manner. Philately is not just aggregate of merely
commercial activities, it is also an ideological framing of history, nature and tradition; framing that power to reshape culture and nature to its own needs. Every collector has his specific mindset forms. There are some methods we might adopt to help a collector to achieve the devotion in stamp collecting and pursuing them is a potent fact.
I have been attracting he stamps that were depicted colorful painting: the color of harmony, devotion tendency, progress performance affection conviction excitement hope togetherness contentment and innocence reflected in Indian paintings and through it on stamps. Facet of art on Indian stamps represents usual design elaborate elegant thematic a fascinating collection are reflected below since the India attained freedom in 1947.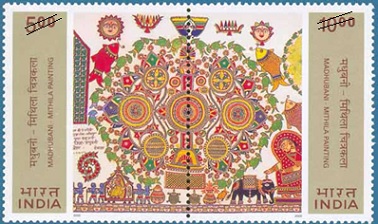 Early men lived in caves and on hunting .They created the images on the rock face what they looked around them by rock cuttings. These caves most probably prehistorically cave painting have been discovered all over the world. Africa has some earliest paintings and rock engraves about 30,000 years old.
Historian tells that the story of painting goes back the day sometime 20,000 years old and these caves have been found everywhere in the world from Europe to Africa and Australia to Asia .Most of them have discovered in 1969 on the rock face in Namibia, South west France and Northern Spain in large number and sophisticated prehistoric paintings on the wall of caves Grote chauvet beautiful cave paintings and engraved more than 300 rhinoceroses, felines bears owls mammoths, hyenas and panthers oldest known painting.
Painting is practiced by applying paint, pigment color, and other medium on a surface of walls, paper, canvas, wood, glass, lacquer, clay, leaf, metals such as copper, concrete, sand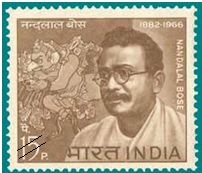 plaster, gold leaf and some other objects. Painting is a creative expression. Eastern and western painting are ranged from spiritual motifs and ideas depicting mythological figures on pottery to Biblical scenes in the interior walls and roofs .the scene of Buddha or Purana religious origin.
These painting s have also been shown on Postage Stamps throughout the world. In India after the its independence a large number of stamps have been released on different occasion featuring paintings. It marks the glory of the artist and their works. To cite a few of them are elaborated below which are best collectors choice in their album or stock book.
Raja Ravi Verma was a very famous painter of India .his paintings are very amazing and his main theme revolves round Mahabharata and Ramayana .He reassembles his painting in beautiful sari clad women. He modeled Hindu Goddess in south Indian women. He travelled the Country to find topics or theme or subject for his paintings.
Postages Stamps have been depicted by the Indian Government his paintings to pay respect to him and his art. His painting Damayanti and swan was issued in 1971 on his 65th death anniversary. His painting Yaksha pleading with the cloud from Kalidas`s Meghdoot, Shakuntala writing letters to Dushyanta from Kalidas's Shakuntala were all were described in stamps ,now a days most collectible rare stamps.
Gurudeo Rabindra Nath Tagore was great poet and painter and his s self portrait Stamp was issued in 1987 and his painting "the head": modern Indian Painting series was released in 1975.
Abindra Nath Tagore was a famous painter of Bengal. He countered Britishers through his painting by Indian style of paintings modernizing the Mughal and Rajput style of offset accepted as true Indian art that influenced people very much. He also worked in Chinese and Japanese calligraphy. He was nephew of Gurudeo Rabindra Nath Tagore.
When India was declared free Nation, a committee for making of a flag headed by Rajendra Prasad was formed and discussed about the National Flag. They decided to adopt the flag of Indian National Congress, with suitable modifications in the flag. The flag of 1931 was accepted as Indian flag but 'Charkha' in the middle was replaced by 'Chakra' (wheel) by chakra closely assembles and appears Ashoka Sarnath Lion Capital Wheel with 24 spokes "wheel of Law" .The sketch of the our National flag was made by Avanidra Nath Thakur an artist of West Bengal a member the flag committee. His painting Abhisarika was depicted 1971 in its commemoration. His designed our beloved tricolor Nation flag was the first Postage stamp of the independent country.
Nand Lal Bose was favorite disciple of Abani nath Tagore the painting guru. He worked in Indian style of painting: the mural painting on Ajanta cave influenced him. He made black and white linocut print of Gandhi in 1930.He was invited by Jawaharlal Nehru to design emblems of Government of India awards including Bharata Ratna and the Padamshri. His paintings are best modern paintings of the world. His painting Guruda abstract was issued in 1967 on 1st Death Anniversary and his portrait was featured on the stamp of 15 p in 1967 and his painting pratiksha was depicted in the stamp released in 1983 on his birth centenary. In it, it gave the emotional value of the color. His heart had heart that always sounded for the art and painting in his mid
Two His painting Abhisarika was depicted 1971 in its commemoration. The modern art painting from "Two Vaisnavas" of Jamini Roy was represented on the stamp released in 1978 and Sailoz Mukherjee`s painting "The Mosque "in 1978 to Amrita Shergill `s "Hill Women "in 1978 and Asit halder`s "Siddhartha with injured bird in 1991 were all feature in the Postage Stamps "between the spider and the lamp" issued n 1982 was elaborated in the design stamps on the occasion of Festival of India on M.F.Hussain`s contempory art.Miniature paintings of India series issued in 1973 Dance Duet Aurangzeb period Radha KishanGar a painting by Nihal Chand. In 1962 and
Ritu rang: – hemant Pausha Vasant Ragini Basanti greeshm varsha ragmegh malhar were also contained the themes Indian Stamps in 1996.
Madhubani Maithili Paintins Couple with cow, flurist and dancing girls two warriors geometrical pattern with sedan and elephant foot were featured in the postal stamps in 2000 and Rajasthan painting on cloth;-
ISSUED IN 1974 FOR INTRNATIONAL DAIRY CONGRSS,Phad scroll painting by Dev Narayan in 1972, Ajanta Cave paintings issued in 1971 on the 25th anniversary of UNSESCO and Rathva wall painting in 1999 the 125th anniversary of UPU. The paintings of the Bombay Art Society were depicted on postage stamps in 1989.
The paintings stamps are much favorite and popular among the collectors. They inspire them for the hobby and from they learn the art and paintings and about their artist. This theme stamps have surmounted the borders of the Country and best preserved referable, these stamps are more significant and typical document and admirably sums up and represents most attractive. Stamps marked an unprecedented intellectual ferment and creative upsurge in all branches of art and letters worldwide.
A commemorative stamp on the occasion of Festival of India on painting theme The Bindu painted by S. H. Raza was featured on 17.06.1982 of denomination of Rs 2/- The painter introduced a ;life like treatment of traditional religious subject. He was considered an expert in modern paintings. He expressed in his painting that the inaudible sound is visualized as Bindu a symbol of cosmic energy centre point forces across the black space, then colors appear white, yellow, red and blue and produce the most important requisites of the pained world. Akin to the concept of panchbhoot sharer human body composed of five elements: kshitiv jal Pavak gagan sameer the painting emerges as a living organism from the fusion of the five vital color elements, centered around "BINDU" in their purest form, to their subsequent growth towards plenitude. I believe myself the objective in these stamps understands my mind and requirement, I read them watch its models and admire them how they charming and fascination.( Author is Retd. Postmaster and Philatelic Journalist Village Bajra Bariatu Hehal Ranchi 834005 India)