Lotte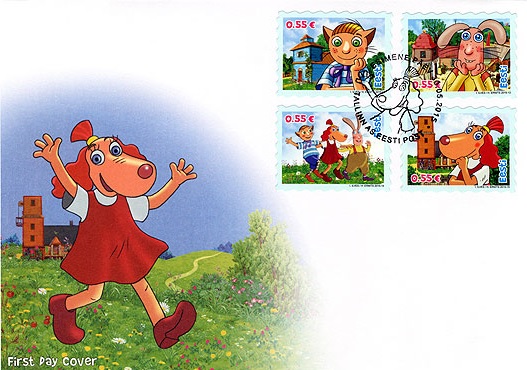 Gadgetville lies close by the sea. It is a village where a competition on new gadgets takes place on the most important day of the year, Inventor's Day. During the long and cold winter the best inventors of the village invent new gadgets to demonstrate them to the folks in the village on Inventor's Day. One of Gadgetville's residents is Lotte, a small but energetic little puppy girl, for whom the 24 hours in a day are clearly not enough. It is because she immediately has to learn to whistle by means of the tows of her feet, find the pirates' treasure from the bottom of the sea, pull up a rope between two chimneys and learn to walk on it. And then it is necessary to play hopscotch, tracking and soccer with her best friends, the kitten Bruno and the bunny Albert.
Issue Date: 30.05.2015 Designer: Indrek Ilves / Heiki Ernits Printer: AS Vaba Maa Process: Offset Colours: 4 Colours Size: 35,4 x 26,4 mm Values: 2.20
Different kind of Estonia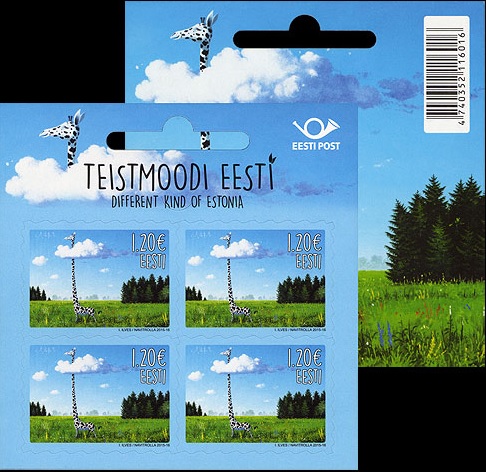 The giraffe came out of the spruce forest smiling – just imagine the look on the neighbouring village children´s faces when they see him. Perhaps they´d think that there´s something wrong with the cow´s neck! But no, thought the giraffe, it was indeed the cow who had invited him. Lately, it had appeared to the cow that she couldn´t put things in perspective anymore. It seemed like something needed to be changed, but she didn´t know what or how. So it was up to the giraffe now to look over the horizon. Maybe something could be done differently.
Issue Date: 04.06.2015 Designer: Indrek Ilves / Navitrolla Printer: AS Vaba Maa Process: Offset Colours: 4 Colours Size: 35,4 x 26,4 mm Values: 4.80