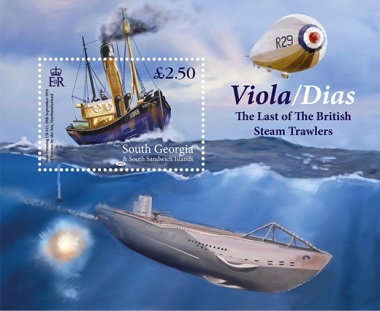 A dramatic episode off the North East coast during the First World War is recalled by a special issue of stamps issued on the other side of the world.The steam trawler Viola operated out of the Tyne during the Great War and is currently the subject of a bid to bring her back from South Georgia in the South Atlantic to Hull.But a book about the vessel so impressed the Governor of the Falkland Islands that he has commissioned a set of stamps.
One is of the Viola on patrol off the Farnes, the impressive first day cover featuring her involvement in the sinking of UB-115 off the Northumberland coast.
The Viola, built at Beverley in 1906, today is the oldest surviving steam trawler in the world, still with her steam engines intact.
She operated out of the port of Shields between 1916 and 1918, when it was an important centre for armed trawlers, minesweepers etc.
Renamed the Dias, she now lies at the abandoned whaling station of Grytviken.
The 70p stamps show the Viola working as part of Hull's boxing fleet far out in the North Sea in around 1907 and then on patrol off the Farne Islands in 1917.