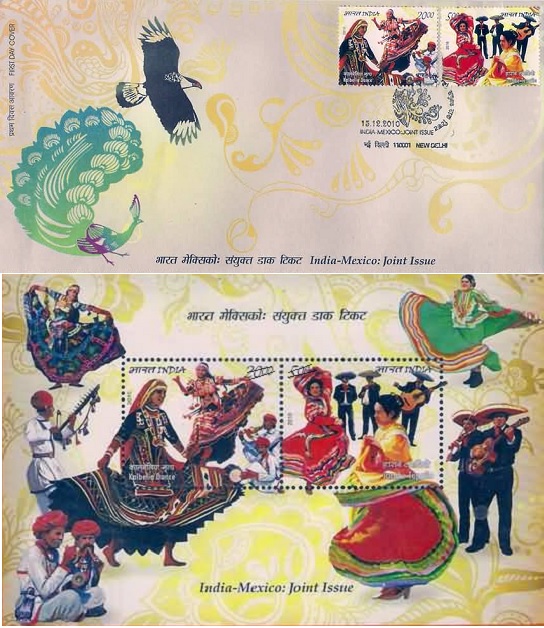 To commemorate 6o Years of diplomatic relations India and Mexico issued stamps on 15th December 2010.Two stamps released by both the countries depicting the Kalbelia dance of Rajasthan, India and Jarabe Tapatio, National dance of Mexico.
Kalbelia dance of Rajasthan: The Kalbeliyas, is a snake-charmer community from Rajasthan, which performs the Kalbeliya dance. They rely heavily on this dance performance for their living. The Kalbeliya women dancers wear long, black coloured, drindled-skirts heavily worked with embroidery and light-coloured thread along with small pieces of mirrors. This costume draws the attention in a somewhat strange way.The dance is usually performed by a group of two women standing in the center of the stage. After this pair, another pair of women come & dances in the same way.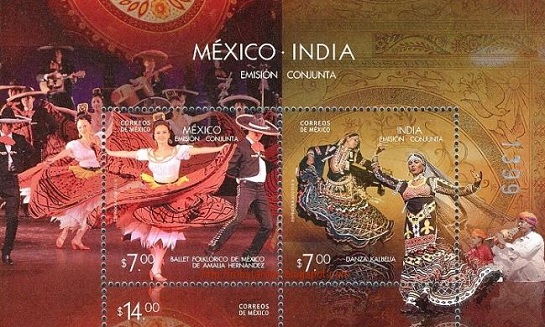 Jarabe Tapatio, National dance of Mexico:The Jarabe Tapatío dance in its standardized form was first choreographed by the Mexican, in the early twentieth century to celebrate a government-sponsored fiesta that commemorated the successful end of the Mexican Revolution. Since then, it has become a folk dance popular throughout Mexico and the Southwestern United States. It serves as a symbol of the national pride and honor of the Mexican people.The dance tells the story of love and courtship. It can be performed either by a couple or a group of couples.