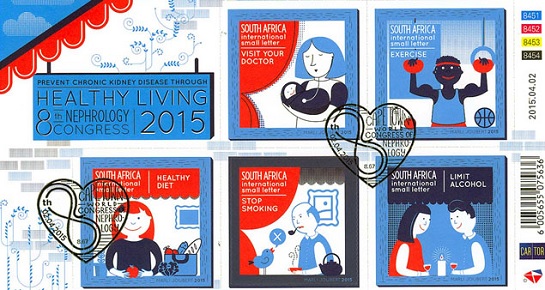 South Africa has released a series of stamps on 2nd April 2015 dedicated to healthy living and celebrating the prestigious (23rd International) 8th World Congress of Nephrology (WCN 2015), which took place at the Cape Town International Convention Centre from 3 to 7 April 2015. Designed by Marli Joubert, the stamps have a red and blue colour scheme inspired by diagrams showing oxygenated blood (red) and un-oxygenated blood (blue). The stamps draw attention to steps that can be taken to lower the risk of chronic kidney disease (CKD). These include:
Regular medical check-ups:
In most cases, CKD cannot be completely prevented, but early detection can help you to manage the disease. If you have a long-term condition, such as diabetes, that could potentially cause CKD, it is important to manage it carefully. Follow the advice of your doctor and keep all appointments relating to your condition. People with diabetes are advised to have their kidney function tested every year.
Regular exercise:
Exercise helps to lower blood pressure and reduces the risk of other diseases such as diabetes, high cholesterol and heart disease. This in turn reduces the risk of developing CKD, while helping to maintain a healthy weight. At least two and a half hours of moderate-intensity aerobic activity per week, such as cycling or fast walking, is recommended.
A healthy diet:
Eating a balanced diet will also help to prevent conditions such as high blood pressure, diabetes, overweight and heart disease, which will reduce the risk of CKD. A balanced diet includes plenty of fresh fruit and vegetables (five portions a day), fish, raw nuts and whole grains, as well as drinking plenty of water, limiting your salt and sugar intake and avoiding unsaturated fats.
Stop smoking:
Smoking increases the risk of cardiovascular disease, including heart attacks or strokes, and it can increase the likelihood that any existing kidney problems will get worse. If you stop smoking, you will improve your general health and reduce your risk of developing other serious conditions, such as lung cancer and emphysema.
Limit alcohol intake:
Drinking excessive amounts of alcohol can cause a rise in blood pressure as well as in the cholesterol levels in the blood. Following the recommended alcohol consumption limits is the best way to reduce the risk of developing high blood pressure and the risk of CKD. Recommended limits for alcohol intake are three to four units of alcohol a day for men, and two to three units of alcohol a day for women.