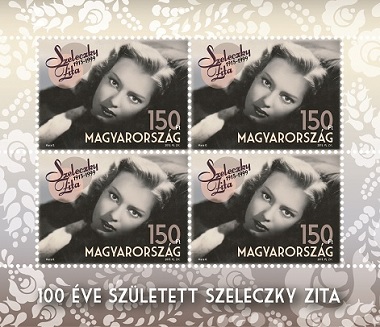 Hungary issued a stamp on 10th April 2015 to commemorate the 100th birth anniversary of the of actress Zita Szeleczky (1915–1999), Commander of the Order of Merit of the Republic of Hungary and posthumous holder of the Hungarian Heritage Award. The stamp and the accompanying first day cover feature the portrait of the actress, while her signature has been used for the special postmark.
Zita Szeleczky appeared in sixty plays during her career in Hungary up to 1944 and fifteen productions after she emigrated. She also played the leading lady in twenty-six Hungarian films and in one Italian-Hungarian co-production. Her tremendous career made her one of the greatest Hungarian actresses but, as most of her work was done to protect Hungarians abroad, in Hungary she did not win the wide recognition she deserved.
It should be noticed that in the United States people are disturbed that the Hungarian Postal Service has issued this stamp. The Americans consider that Zita Szeleczky is not a role model for today's Hungarian youth, her support of Hungarian fascism was nothing less than shameful, and as an actress she did not exhibit unusual talents.