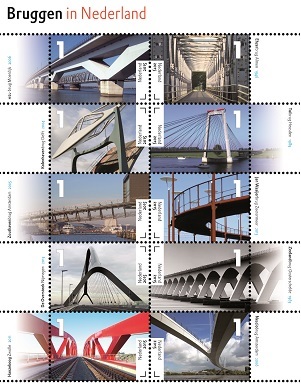 Dutch Post has issued 10 stamps on 30th March 2015 depicting the wide variety of post-war bridges.
Ten relatively unknown new bridges were selected in collaboration with the Netherlands Foundation for Bridges.
The bridges that made the selection are the HSL Bridge (in Moerdijk), the Ehzer Bridge (in Almen), the Kolenhaven Bridge (in Delft), the Tui Bridge (in Heusden), the Jan Waaijer Bridge (in Zoetermeer), De Oversteek (in Nijmegen), the Zeeland Bridge (in the Oosterschelde), the Hanzeboog (in Zwolle), the Zouthaven Bridge and the Nescio Bridge (both in Amsterdam).