From Me to You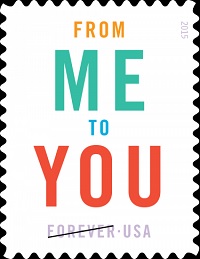 From Me To You is a unique stamp issuance, featuring not only 20 Forever® stamps, but also an interactive element in the form of decals and labels for decorating envelopes, letters, and greeting cards. The stamps each bear the words "From Me To You" in capital letters. Surrounding the four rows of stamps in the center of the sheet are colorful self-adhesive stickers. The eleven labels at the top of the sheet, in the shapes of hearts, circles, and rectangles, carry messages such as "Happy Birthday," "Miss You," "Thank You," and "Get Well Soon." Along the sides and bottom of the sheet are decorative decals including hearts, envelopes, flowers, mailboxes, and a kiss (red lips). The artist chose bright jewel tones and primary colors to reflect the happy, playful personality of the stamp design.Ethel Kessler was the art director. Artist Michael Osborne was the designer and typographer.
Stars and Strips

"Old Glory! Our beloved American Flag! Long may she wave over our land!" Those words, by writer Hattie Louise Harris, sum up the enthusiasm with which our country displays its flag. This year, the U.S. Postal Service® celebrates the symbol of national pride with the Stars and Stripes issuance. The design of the three Presorted Standard stamps, which together form elements of a waving flag, puts a contemporary spin on an American classic.
The stamps feature wavy red and white stripes, a blue field, and five-pointed stars. Each stamp has the word "USA" and the denomination printed in the bottom right corner. When creating the design, artist Nancy Stahl incorporated an array of colorful dots that help give the stamps a contemporary look. Greg Breeding was the art director of the project.
The Stars and Stripes Presorted Standard stamps are being sold in self-adhesive coils of 3,000 and 10,000 and are intended for use by bulk mailers.